GRÜNENDEICH · MLU (MARITIME LANDSCAPE LOWER ELBE)


Old nautical College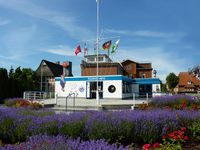 The nautical college was established in Grünendeich in 1858. Here navigators and captains were educated for their journeys on the oceans until 2002.
 Maritime Landscape Lower Elbe
Today it is the home of the Maritime Landscape Lower Elbe. Local experts will gladly provide you with information. You will find a wide range of information material about the region in the old nautical college.
Furthermore, Captain Brill and Captain Giese regularly guide guests across our own Captain's Bridge.*
Those who would like to visit the Planetarium and travel with Captain Ohlrogge into the infinite expanse of the universe should register by telephone (+49 4142-88941-0).*
Visitors are invited to enjoy the permanent exhibition "Meer erleben an der Elbe" (Experiencing the sea and the Elbe) in the foyer of the building with a walk-in model of the Lower Elbe, as well as changing art and photo exhibitions.
*Group events on the Captain's Bridge and in the Planetarium can be booked throughout the year.
Opening hours 2020:
3 April to 31 October 2020, Saturdays, Sundays and public holidays from 10 am - 3 pm
Opening hours during blossom-time: cancelled due to Corona pandemic
Extra summer opening hours: daily from 13 July to 9 August 2020 from 10 am - 3 pm